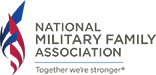 Help A Hero
Spread cheer to military families across the country.
This year, we are partnering with the National Military Family Association. Military families endure stress and heartache most Americans will never have to understand.
For nearly 50 years, the National Military Family Association has stood up for the families who stand behind the uniform through its programs and policy initiatives. Multiple deployments, constant moves to new duty stations, wounds, illnesses, and injuries all have a significant impact on military families. When a family is well supported, a service member is better able to focus on the mission ahead.

With each Holiday Card purchase, we're ensuring that military families are able to make every moment matter together. By donating a portion of sales, we're helping to sustain projects such as:
Spouses Scholarships:

Recognizing the barriers military spouses face due to the mobile military lifestyle, this program helps them ?get to the finish line? ? through just one more class, a few more supervised clinical hours, or a relicensure in a new state.

Operation Purple Camp:

Often, children of service members are looking to connect with other kids, just like them. That's the premise of Operation Purple Camp, a free week of camp for children of service members! At camp, these kids thrive in an environment with fully trained counselors and camp staff experienced in helping children adapt and overcome the stressors of military life.

Family Retreats:

These retreats bring families from all uniformed services to beautiful outdoor locations to spend quality time reconnecting after a deployment, separation, or during a time of transition.

Buddy Camp:

This is a unique Operation Purple camp experience for kids ages 5-8 who may not be ready for an entire week of camp away from their family. By attending with a "buddy," like a dad, mom, grandparent, aunt, or uncle, the child can build a new relationship after a parent's deployment or create new memories that will carry through during future separations.