UPDATED: March 23, 2023
We're all excited to start to get back to in-person events, and what better way to explore your creativity and your craft than an in-person photography workshop? One of the most dynamic parts of photography is the shooting locations, and being able to gain access to both expansive and intimate spaces with someone who already knows the best tips and tricks would be an excellent experience for beginner, intermediate and advanced photographers. Here are 10 in-person photography workshops we picked just for you.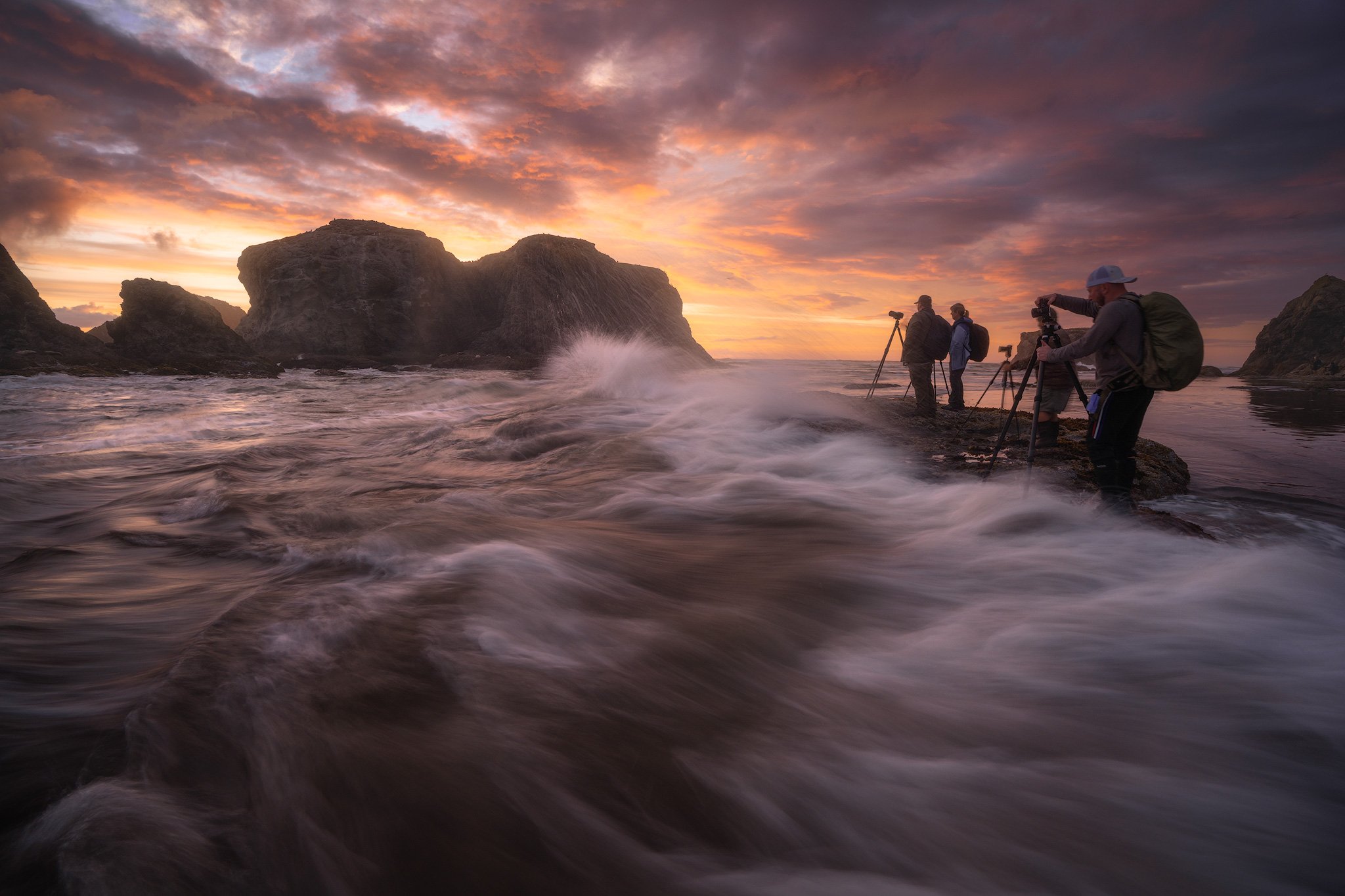 These workshops exploring the beauties of the Pacific Northwest sell out fast, but there's a waitlist! Check out these options for a gorgeous adventure into nature with Nick Page.
Location: Pacific Northwest
Cost: from $599
From the site: "If beautiful sunsets, giant redwoods, and stunning beaches excite you, then our 7-day California coast Photo Tour and Landscape Adventure is the expedition you want to experience. This state truly captures a variety of landscapes, from rugged coastlines, all the way to breathtaking national parks. It offers diversity even if you just travel 80 miles up the coast. It is as if California is begging for you to capture its glory. Places like Santa Barbara, Monterey, and Big Sur are just not found anywhere else in the world; and California offers them with easy access and plenty of turnouts to stop along the way."
Location: California Coast: Santa Barbara, Big Sur, Monterey, Muir Woods, San Francisco
Skill Level: Beginner, amateur, enthusiast and semi-pro photographers
Cost: $7,995
Capture the beautiful landscape of the wildlife from around the world with award-winning naturalist photographer, Jeff Parker. From the birds and wildlife of Hungary to capturing Rocky Mountain Elk there's a workshop for every nature photography pro or  enthusiast.
Location: Around the World
Skill Level: Open to All 
Cost: starting at $2.995
If you're looking for a dynamic photography workshop, look no further than Scott Stulberg's two-part Milky Way Night Sky workshop with its partnering Photoshop class. 
Location: Sedona, Arizona
Skill Level: Intermediate to Advanced 
Cost: $1,250
From the site: "Located where the Cooper and Ashley Rivers come together to join the Atlantic ocean lies the beautiful historic city of Charleston, South Carolina. Known for its richly preserved buildings and hospitality, you'll no doubt walk away charmed from our 5-day Charleston Photo Tour and Cultural Adventure."
Location: Charleston, South Carolina
Skill Level: All levels
Cost: $5,995
Newcomer to the photography world, and located in or around or traveling to Salt Lake City? This is the workshop for you! Learn about your camera in a fun and easy way with other beginners.
Location: Salt Lake City
Skill Level: Beginners
Cost: $80
Become immersed in the details of macro photography on this single-day workshop focused on Forest Macro of the Great Smoky Mountains where attendees will stop to study and capture the intricate patterns and features of the forest floor. Join host photographer Tiffany Briley on a moderate excursion to enhance scouting and composition skills, with the option to bring your own small portfolio of macro photographs for a helpful critique at the end. All photographers must bring their personal laptops for the editing portion of the workshop. 
Group rates available for lodging.
Location: Great Smoky Mountains, Tennessee 
Skill Level: Beginner – Advanced
Cost: $350
From the site: "Capture is only the first step in making great digital images. Post-processing and management of those images is also an essential part of digital photography, and there is no software package better suited for digital photographers than Adobe Lightroom. In this two-day intensive course, you will learn how to harness the considerable power of Lightroom. We'll place a particular emphasis on the Library and Develop modules—and the most essential skills to optimize your images."
Locations: Miami, Florida
Skill Level: Beginner (with some experience) 
Cost: $1,200
They might be a bit of a pretty penny, but you can go on an actual photography expedition with National Geographic! From their site: "On our photography expeditions you'll learn tips and techniques while exploring picturesque places with a National Geographic Photography Expert. Also, all voyages aboard the National Geographic fleet are accompanied by a certified photo instructor; and a National Geographic Photography Expert joins every expedition aboard the National Geographic Endurance, National Geographic Explorer and National Geographic Orion, as well as each of our private jet trips and European river cruises."
Location: Around the World
Skill Level: Open to All
Cost: $1,949
In NYFA's 4-Week Workshop in Fashion Photography in New York, students learn all aspects of a fashion shoot. Students work with natural and studio lighting, collaborate with models and stylists, and edit and retouch images to create a compelling story.
Location: New York Film Academy, NYC
Skill Level: Open to All
Cost: Tuition – $5,802 / Equipment & Technology Fee – $838