Each week in October, the design team will be celebrating their favorite iconic women in history with a DIY Halloween costume project! PLUS – we'll be recreating some of their most memorable photographs, and showing you exactly how to do it yourself!
WEEK 3: BECOMING PRINCESS DIANA
PART I: THE COSTUME
"When I was younger, I always thought of Princess Diana as beautiful, but really down-to-earth," says our model and design team member Siobhan. "She chose to use her fame to support so many humanitarian causes, and her support made a huge difference." Did you know that Princess Diana supported more than 100 charities over the course of her lifetime? One of her famous movements in public advocacy was on behalf of the International Campaign to Ban Landmines, which won the Nobel Peace Prize a few months after her death. 
So, if you're looking for a superhero costume this Halloween, might we suggest Lady Di? Here's how we put together Diana's iconic look: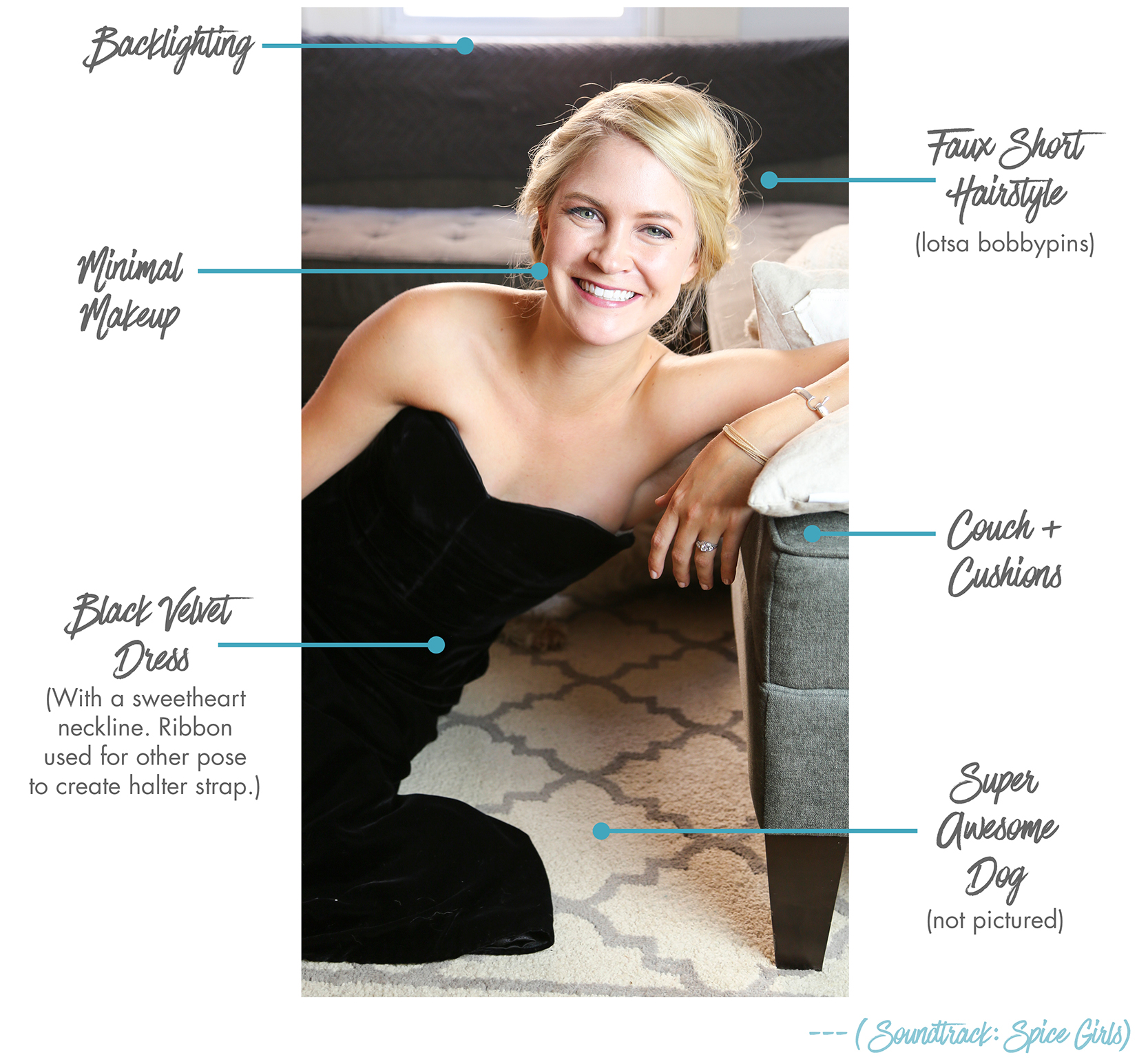 Dressing up as The People's Princess for Halloween? You should be pretty proud:
–> Her family was distantly related to some seriously impressive historical characters, such as Audrey Hepburn, Winston Churchill, and Mary Queen of Scots.
–> She counted some incredible cool people among her close circle of friends, including Elton John, Gianni Versace, Bryan Adams, and George Michael.
–> Her 1981 wedding to Prince Charles drew a television audience of 750 million, while her funeral was viewed by over 2.5 billion people in 1997.
PART II: THE PHOTOS
At one point in her life, Diana was considered to be the most photographed woman on the planet. That means we had A LOT of images to choose from, when deciding which photos to recreate. Somehow, we narrowed it down to these two beauties:
To capture our iconic images, Siobhan took us home with her to her gorgeous living room. We were able to recreate the scene with additional lighting, well-placed pieces of furniture, and some direction from our production assistant, Mr. Ellwood (the furry gentleman pictured below).
PART III: POST-PRODUCTION MAGIC
Here's what we started with – two gorgeous photos!
To recreate the first image, we removed both the design on the rug and the cushion Siobhan is sitting on, and then extended the carpet a little further into the shot. Then, we used Curves (a ridiculously awesome tool in Photoshop that is used to adjust point throughout an image's tonal range) to blow out the background, to get rid of the back of the couch, and to create the correct highlights in the image.
After that, we used Curves, Hue/Saturation, the brush tool, and good ol' elbow grease to make the couch white. Finally, we got rid of the cushion under Siobhan's arm, flipped the image, and made it black and white (adding 5% opacity sepia to make it warmer, like the original).
To create photo #2, we relied on the Curves tool to adjust the tones, so the highlights and shadows were as close to the original as possible. To this end, we added some more shadow on one side of her face and used another image where her ear wasn't covered to fill in her ear on this photo. We then blacked out her bottom row of teeth, to mirror the original, replicated her existing dress strap to make it wider, and then made the image black and white to match.
Our final photos:
And now, here they are, the iconic photos from Diana's life, recreated and finished with love:
Feeling inspired to step out as Lady Diana this year? Share your photos with us on Facebook or Instagram, and give us a shout in the comments below!