Mother's Day Photo Gifts
Mother's Day Photo Gifts

The Mother's Day Album
She'll never forget the moment she unwraps this handcrafted heirloom full of loving moments.
ONLY...$149.00 $109.00 EACH
Photo Books
Perfect for curling up on the couch together and reliving your favorite moments.
ONLY...$26.00 $17.42 EACH
Accordion Books
Create a fun collection of photos that she can take with her on the go.
ONLY...$15.00 $10.05 EACH
Collage Prints
Collect some of your favorite photos from over the years to create a collage print she'll love to display at home.
FROM ONLY...$0.26 $0.17 EACH
PHOTO PRINTS
Mom loves Photo Prints of her favorite people. Make sure she's got plenty to show off to her friends!
ONLY...$0.26 $0.17 EACH
Photo Bracelets
Collector's items for the Mom with classic style.
ONLY...$19.00 $12.73 EACH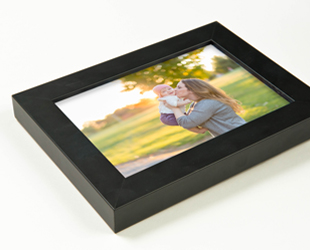 FRAMED PHOTO PRINTS
It's time to get those photos from vacations, graduations, sports events, and weddings off the computer and into her home!
ONLY...$15.00 EACH
Photo Mugs
Customize one of our fun Mother's Day templates, or create your own design that's totally unique.
FROM ONLY...$13.95 $9.35 EACH
CANVAS GALLERY WRAPS
Whether she's looking for a wall decor update or starting a gallery wall of her own, nothing makes an impact like a stunning Canvas Gallery Wrap.
ONLY...$50.00 $33.50 EACH
Personalized Mother's Day Gifts
Are you looking for a unique Mother's Day gift that shows the Mom in your life just how much she means to you? This year, freeze time with personalized Photo Gifts she'll smile about forever. Turn her favorite digital images into custom Mother's Day presents with real heart.

Photo Books, Canvas Prints, and other personalized gifts are perfect for the new mom, grandmother, wife, partner, or sister in your life who deserves something special. Whether it's a card full of family Photo Prints, a Photo Collage filled with all of her favorite moments, or a keepsake she can take on the go, Mom will love to see her favorite faces smiling back at her for years to come!
SHOP PRODUCTS • ORDER PRINTS • SALE • SUPPORT • CAREERS
© 2017 Nations Photo Lab. All Rights Reserved.
Nations Photo Lab is a professional photo lab that provides the highest-quality professional photo printing services and products at industry-leading prices. Our digital professional photo lab serves emerging and professional photographers throughout the United States and international markets. Nations Photo Lab prides itself on being the photo printing lab of choice for professionals as well as anyone else looking for high quality professional photo finishing services. If you are looking online for professional prints, metallic prints, photo on canvas printing, custom photo books, mounting, postcards, album printing, sports packages, press cards, photo finishing or any other professional photo lab services online, then you have landed on the right website. As one of the premier photo labs, Nations offers online ordering of digital photo prints using the ROES ordering system.
We're based in suburban Baltimore, Maryland. Our laboratory and facility is located at 11103 Pepper Rd. Hunt Valley, MD 21031.