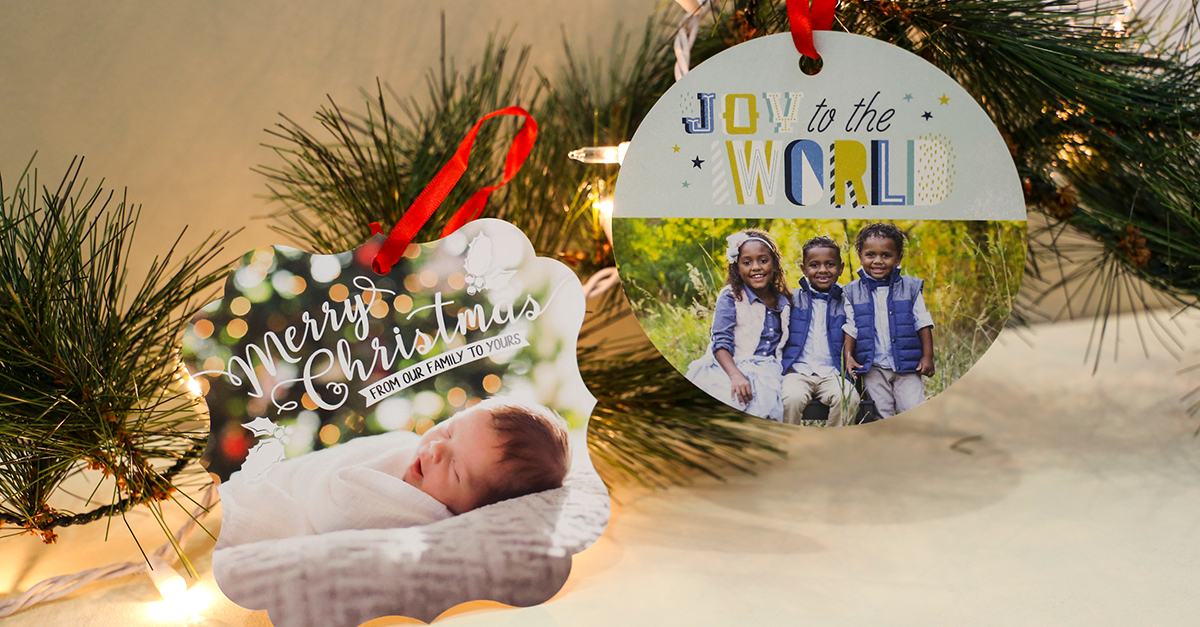 Christmas Card Ornaments
Stand out from the Christmas card crowd this season by sending out beautiful, personalized Card Ornaments! Browse our new collection of designs to find your perfect match, or create your own for a truly custom look.
Printed on premium press card paper, 5x5" Christmas Card Ornaments fit easily inside our complimentary white envelopes. Attach the red satin ribbons included with your order to send your loved ones something new for their tree!
Card Ornament pricing is based on volume.
FROM...$0.93 /CARD
Packs of 25

Semi Gloss

Linen

Premium Matte

Pearl

1 - 2

(25-50 cards)

$33.45$20.07

$35.75$21.45

$35.75$21.45

$37.45$22.47

3 - 7

(75-175 cards)

$33.45$20.07

$35.75$21.45

$35.75$21.45

$37.45$22.47

8 - 20

(200-500 cards)

$33.45$20.07

$35.75$21.45

$35.75$21.45

$37.45$22.47

21 - 50

(525-1250 cards)

$31.78$19.07

$33.96$20.38

$33.96$20.38

$35.58$21.35

51+

(1275+ cards)

$31.78$19.07

$33.96$20.38

$33.96$20.38

$35.58$21.35
FREE envelopes can be added to every order
in the Shopping Cart.
Pricing is for Semi-Gloss 5x7" Postcards.
Postcards come in packs of 25.
Click here for tips on create your own.
Card Ornaments are sold in packs of 25.
Shop right here from our hand-picked designs...
Send your friends and loved ones a custom holiday card they'll actually want to keep for years to come! A Christmas Card Ornament is a great way to personalize your holiday greetings in a new and memorable way. Each Card Ornament arrives with a complimentary, red satin ribbon, so they are ready to hang on the tree or on the mantle.
Custom holiday Card Ornaments make great gift tags, as well, and they come in two popular shapes: Circle and Ornate. Send a unique and memorable holiday greeting that will stand out from the crowd this winter. Customize your Christmas Card Ornaments today and make this holiday season one to remember!
SHOP PRODUCTS • ORDER PRINTS • SALE • SUPPORT • CAREERS
© 2017 Nations Photo Lab. All Rights Reserved.
Nations Photo Lab is a professional photo lab that provides the highest-quality professional photo printing services and products at industry-leading prices. Our digital professional photo lab serves emerging and professional photographers throughout the United States and international markets. Nations Photo Lab prides itself on being the photo printing lab of choice for professionals as well as anyone else looking for high quality professional photo finishing services. If you are looking online for professional prints, metallic prints, photo on canvas printing, custom photo books, mounting, postcards, album printing, sports packages, press cards, photo finishing or any other professional photo lab services online, then you have landed on the right website. As one of the premier photo labs, Nations offers online ordering of digital photo prints using the ROES ordering system.
We're based in suburban Baltimore, Maryland. Our laboratory and facility is located at 11103 Pepper Rd. Hunt Valley, MD 21031.